Non-Surgical Vaginal Rejuvenation With ThermiVa
Childbirth and the aging process can cause the vaginal muscles to stretch, leading to laxity and diminished sexual sensation. Women who experience these changes may benefit from one of several treatment options.
Esprit Cosmetic Surgeons offers ThermiVa® for non-surgical vaginal rejuvenation. This FDA-approved technology employs a small medical wand to apply radiofrequency energy to areas of laxity. Treatments encourage collagen formation, blood flow, and nerve growth, which tighten and rejuvenate the targeted areas. Patients may also have ThermiVa applied externally to tighten the labia.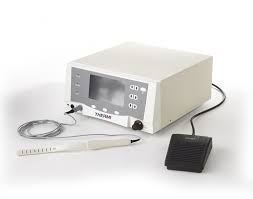 Thinking About ThermiVa?
Women seeking a non-invasive and effective solution for concerns related to vaginal looseness may be good candidates for ThermiVa. Patients choose treatment to:
Improve vaginal tone.
Enhance sexual response.
Address dryness related to menopause.
Board-certified surgeon Dr. Nancy Salisbury guides patients in the different treatment options that are available to them, including ThermiVa. Dr. Salisbury has nearly three decades of experience in female genital cosmetic surgery. She has received specialized training in technologies such as ThermiVa through the Laser Vaginal Rejuvenation Institute® (LVRI®) of America. She also studied under Dr. David Matlock ("Dr. 90210"), a pioneer of female genital plastic surgery. Patients receive the highest degree of expertise and care in her treatment.
What to Expect With Esprit Cosmetic Surgeons
Consultation
During the initial appointment, Dr. Salisbury will talk with patients about the concerns that they have and conduct an examination to identify the areas that may benefit from tightening. Aesthetic practices often emphasize only non-surgical therapy because this may be the only option they offer. Because Dr. Salisbury provides both non-surgical and surgical treatment, she can evaluate patients more comprehensively and guide them to the best option for their needs.
If this choice is ThermiVa, patients can schedule that day with Esprit Cosmetic Surgeons, or they can contact the practice when they are ready for treatment. ThermiVa is approved for women of all ages, and Dr. Salisbury's past patients report that they are highly satisfied with their results.
Treatment
Women will typically achieve the best results with ThermiVa through a series of three treatments spaced one month apart. A licensed practical nurse (LPN) will perform each of the treatments, which take about one hour.
Recuperation
There is no downtime following ThermiVa. Patients can return to their normal activities on the same day, and they will usually notice an immediate change in the treated areas. Women who receive ThermiVa in a three-session cycle should get the maximum effect by 4-6 months after their first session.
Dr. Salisbury likes to see patients back in the office at about the three-month mark to gauge their experience and improvement. To maintain the benefits of treatment, patients will usually have a single ThermiVa session every one or two years.
What Patients Ask Us About ThermiVa
What does it feel like to get ThermiVa? What does the device look like?
Most women describe treatment with ThermiVa as a warm, but not painful, sensation. The radiofrequency applicator is about 0.5 inches wide and has been designed to be positioned comfortably within the vagina.
Do I need numbing or anesthesia for treatment?
ThermiVa is non-invasive, and patients do not need anesthesia to receive treatment comfortably.
Should I limit my activity or not have intercourse for a period of time after having ThermiVa?
Women should experience no downtime as a result of their treatment. Patients have no physical restrictions or restrictions on intercourse.
Learn more about non-surgical vaginal rejuvenation with ThermiVa. Schedule a consultation at Esprit Cosmetic Surgeons by calling (503) 783-0544 or contacting us online.