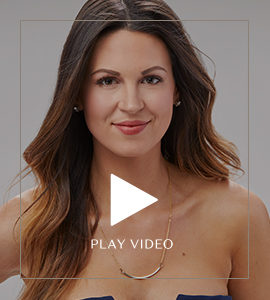 "My name's Paige, I'm 34 years old and I live in Beaverton, Oregon. I most enjoy being a mother to my children in life and keeping the busy schedule going. I feel like it's what I was made for. When I was about 22 years old, I think it was the first time I had talked to my mom about feeling like I didn't look like I had gone through puberty and I just felt like I didn't have a very womanly figure. I wanted to look into getting a breast augmentation and so I did that at the age of 22 and then I had 2 children and after 2 children, and all of that that comes with it and babies, it was time to get another augmentation. So I started looking around at doctors in the area and a few of my friends had recommended Dr. Connall. When I met him, I knew it was where I wanted to go.

Immediately when I met Dr. Connall, he felt like a friend. He was very articulate and took time to actually answer the questions so that I could understand everything and he just made me feel so comfortable that I knew right away this is who I wanted to pick. I love the outcome! I think that we nailed it – he did an amazing job! They look completely natural and we totally achieved the look that I wanted. After surgery, my recovery was smooth. I felt very comfortable. They sent me home when I was ready. I didn't feel like it was a rushed process. I feel like Dr. Connall and his staff makes you feel like you are a friend that they care about on a personal level and you're not just another patient.

People have noticed. They'll say things like, "Wow you look great, but what's different?" You know, "Did you lose weight?" or whatever. And I think that that says a lot that it's so natural looking that they can't quite tell but they know something is better. My overall experience with Dr. Connall is wonderful! I would absolutely refer Dr. Connall to friends and family! He's amazing and he makes you feel like you're the only patient there. He takes care of you from the minute you walk in the door to the minute that you leave. Just all around, his staff, they're very professional.

I feel completely different. I feel like I can look in the mirror and be happy with what I see and I would go there again and again, and I do and I will, and I would refer them to everybody that I know."
*Individual results may vary