More and more often, women have become interested in lip augmentation to provide greater fullness for the lips and improve the appearance of irregular lip borders. So, if you are interested in lip augmentation, you can have confidence in knowing a filler, like Juvederm, is the preferred choice. Now, let's explore why.
There are several reasons why Juvederm is the preferred choice for treating the lips. First, it's a smooth gel that can be simply deposited under the skin. The product allows for a beautifying definition that can outline your lips. The substance, which is a natural hyaluronic acid, can soften the appearance of pillows and lip lines to give your lips a fuller, naturally lovely appearance. In fact, Juvederm can complement other areas of the face, including around the mouth, to bring more youthfulness to the entire face.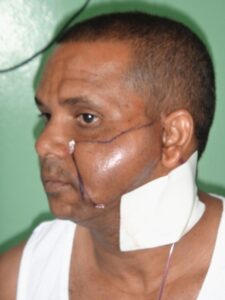 The Lip Augmentation Procedure
Lip augmentation with Juvederm is a quick procedure performed during a routine office visit. The ease and reliability of lip augmentation with Juvederm have propelled it to a leading method to enhance the lips. I have more than 20 years of experience with advanced techniques, including fat injection, for lip augmentation. The benefits of augmentation with a hyaluronic acid filler, like Juvederm, are so strong that fat injection into the lips has faded from my practice.
In terms of the procedure, one of the biggest benefits is that lip augmentation does not have to be very painful. This is because Juvederm is mixed with the numbing medication lidocaine. With the lidocaine "built-in", the procedure can be performed with relative comfort without the addition of lidocaine injections in the mouth. During the procedure, this natural hyaluronic acid substance is injected into the pink part of the lips to provide immediate results. In the next 6-12 months, you can enjoy beautiful lips while the Juvederm substance is gradually absorbed by your body.
Juvederm is a very safe product that has a great track record for lip augmentation. Following the procedure, some women may experience slight irritation, redness or bruising which subsides in a few days. The swelling is acceptable within a few days and tends to resolve completely in about one week. Significant complications like hematoma, infection, and tissue reactions are rare. 
Timothy Connall, M.D., F.A.C.S, a Portland Oregon board-certified plastic surgeon, is highly skilled in injection techniques such as lip augmentation. Experience and skill are very important in the case of injectables like Juvederm® since safe and comfortable results are technique dependant.