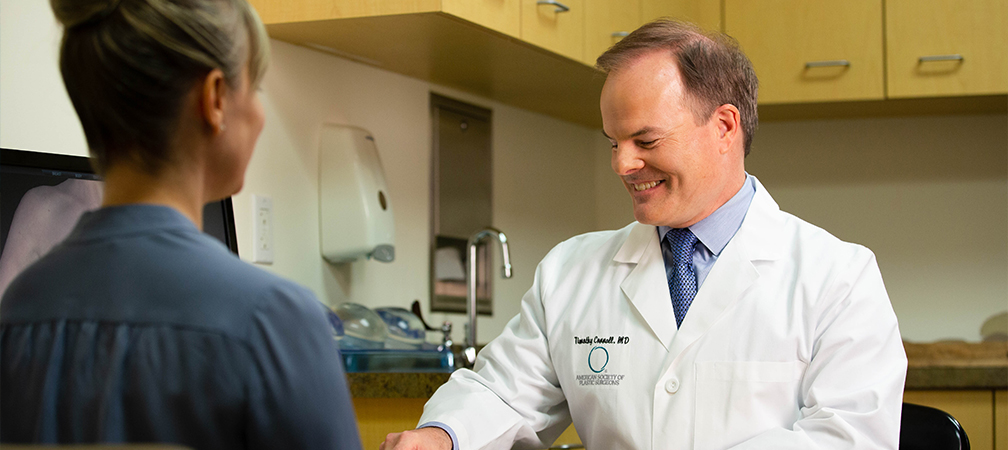 Cosmetic surgery is one of the most important and personal decisions one can make, so we will do everything to assure you that choosing Esprit® Cosmetic Surgeons is the right decision for you.
We Are Here to Help You Learn & Feel Relaxed
We realize that many patients fear their consultation will be stressful and rushed. Our approach is to help you feel comfortable from the moment you enter our office. Dr. Connall and the staff are warm, welcoming and pleased to meet you. Plenty of time is allotted for your appointment so that you can obtain the care and information you need to make an informed, confident decision about your surgery.
Comprehensive Evaluation
Our surgeon spends time talking with you to understand your wishes and review your medical history. Afterward, a complete examination is performed. This is a comprehensive evaluation including a number of important measurements. They will review your examination with you and answer any questions you may have.
Relaxed Discussions With Our Staff
We provide a thorough review of your surgical options. For many procedures, Vectra 3-D computer analysis and surgical simulation will be performed. Dr. Connall will discuss the surgery itself and what to expect afterward. We value well-informed and inquisitive patients, so be assured that we will take the time needed to answer all of your questions.
Surgery Information and Scheduling
Finally, you will meet with one of our patient care coordinators to review the scheduling, logistics and financing of your surgery and, if you like, to schedule your pre-operative visit and surgery date.
Time Well Spent
Your time is valuable. We respect that, so we have designed our consultations to be highly informative and valuable. Expect to spend about one hour with us for your consultation. We have many patients tell us this was the best hour they have spent learning about cosmetic surgery! It is our fundamental objective and responsibility to provide you with a comprehensive medical assessment and all the information you need to make an informed decision about your plastic surgery procedure. At the end of your consultation, we are confident you will feel that you have achieved these goals.
Esprit Cosmetic works to make the consultation process as easy for our patients as we can. Come see our approach for yourself! To schedule a consultation with Dr. Connall, use our online form or call (503) 783-0544 today!