It takes a skilled plastic surgeon to create the perfect look. Dr. Connall has those skills. He has performed over 3,000 breast augmentations and is one of the most sought-after breast augmentation surgeons in Portland, Oregon.
The other key to success with your breast augmentation is implant selection. Dr. Connall is meticulous in helping you choose the best breast implant size, shape, and feel for your unique needs. Many surgeons only use one implant for patients. Dr. Connall considers all the implant options available for each patient to get the best results. Sientra implants are industry leading breast implants and are most often recommended by Dr. Connall. It takes the right implant to create the right look and feel.
Sientra offers both round and shaped (teardrop) implant options. In most cases, Dr. Connall will recommend round, smooth-shelled implants. Each type of implant utilizes a proprietary gel fill technology. High-Strength Cohesive (HSC) Silicone Gel, with a formulation unique to each implant shape.
ROUND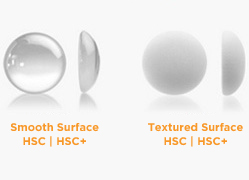 The round implant with the strongest cohesive gel on the market, yet soft to the touch.
The only round implant made with HSC and HSC+ Silicone Gel for the desired look and feel
Offers a fuller, more dramatic appearance in the upper portion of the breast
Available in both a smooth and a textured surface
Covered by Sientra Platinum20™, the industry's best warranty program
SHAPED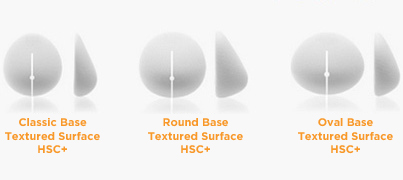 The first FDA-approved shaped breast implant. Not too hard, not too soft.
Sientra's proprietary HSC+ Silicone Gel allows the implant to hold its shape without feeling too firm
Designed to mimic the natural look and feel of a breast
Textured surface designed to maintain the position of the implant in your body
Covered by Sientra Platinum20™, the industry's best warranty program
Round implants are the right choice for a fuller appearance and more dramatic cleavage. In most cases smooth implants are the best choice for our patients. Sientra's shaped implants, with a more cohesive gel fill, are designed to create a more contoured, natural silhouette. Dr. Connall has one of the largest experiences using shaped implants in Portland. He continues to use shaped implants in special cases that require shaped implants. Each style combines Sientra's exclusive HSC Silicone Gel interior with a durable outer shell to create a soft, natural-like feel without sacrificing the integrity of the implant.
One shape does not fit all. That's why both round and shaped implants are available in different shapes and sizes so that you and Dr. Connall can create the look that's right for you.
PLEASE CLICK THE LINKS BELOW TO READ MORE ABOUT SIENTRA IMPLANTS:
Sientra Feel Good Factor: Breast Implants That Feel as Amazing as They Look (PDF)
Sientra Patient Planning Guide: Breast Augmentation (PDF)
Sientra Platinum20 Warranty Program (PDF)
What Is Silicone?
Silicones are a family of chemical compounds. They are made from silicon, a naturally occurring element found in sand, quartz, and rock. Next to oxygen, silicon is the most common element in the earth's crust, and becomes silicone when it is combined with oxygen, carbon, and hydrogen. Depending on the arrangement of the molecules, silicones can be manufactured in a variety of forms, including oils, gels, and solids.
Silicones have been part of the consumer industry for over 70 years. Because they can be manufactured in various ways, silicones appear in a wide variety of products that most of us use every day. Hairsprays, suntan lotions, and moisturizing creams are just some of the consumer products that contain one form of silicone called dimethicone. The applications of silicone, whether used as an oil, gel, or solid, are equally extensive in the medical field. For example, the lubricating qualities of silicones make them ideal for coating surgical needles and suture thread, as well as the inside of syringes and bottles used for the storage of blood and intravenous medicines. Protective silicone coatings have also been used in pacemakers and heart valves. Other medical devices utilizing silicones include: artificial joints, catheters, drainage systems, facial implants, tissue expanders, and breast implants. Silicone products have been shown to be biocompatible, reliable, flexible, and easy to sterilize, making them an excellent choice for both implantable and non-implantable medical devices.
Silicone Gel Breast Implant History and Safety
The 29-year-old single mother of six had never given much thought to her breast size. But when a plastic surgeon at Jefferson Davis, Houston's charity hospital, offered to bring her up to a C-cup free of charge, Timmie Jean Lindsey said yes. It was 1962 and Lindsey quietly became the world's first recipient of modern breast implants. "She trusted us without any hesitation," recalled Dr. Thomas Biggs, the only surviving member of the groundbreaking surgical team that devised and delivered the medical innovation. "She knew it was a new product nobody had ever used before." Now 88 years-old, the Houston woman said those original first-generation prototypes are still in place. "I never regretted it," she said, although she conceded it was an adjustment to re-enter the world with a full chest.
Since then, millions of women have undergone breast implant surgery for augmentation and reconstruction. Breast implants have become one of the world's most widely used and studied devices in the history of medicine.
Silicone gel breast implants have a silicone elastomer outer shell and are filled with a thick silicone gel. The silicone gel inside the breast implant is a very thick material, like a thick gelatin. The silicone fill material is a "cohesive" substance, in that it is thick and does not run like a fluid. However, though some now refer to all silicone implants as having a cohesive gel fill material, some silicone gel implants do not have the fully cohesive gel that compromises "form-stable" (or, so-called "gummy bear") implants.
In 1992 the FDA placed a moratorium on the use of silicone gel implants for routine breast augmentation in the United States. (At the same time, however, silicone gel breast implants were kept available for patients needing breast reconstruction, such as women with cancer surgery and congenital defects). The FDA silicone gel implant moratorium occurred in response to women's concerns about possible harmful effects of breast implants. While there was little, if any, scientific data to show that modern implants were harmful, the FDA placed a moratorium on the use of silicone gel implants for routine augmentation pending additional studies from the implant companies demonstrating the safety of the devices. Meanwhile, in Europe and throughout most of the world, silicone implants continued to be used, developed, and improved.
After years of review of safety data accumulated since silicone gel implants were withdrawn by the FDA in 1992, the FDA concluded that silicone gel implants are a safe and appropriate option for women desiring routine breast augmentation. Final approval and release of silicone gel implants for use in all breast augmentation patients occurred in November of 2007. Since then, silicone gel implants have been the overwhelming choice for women desiring breast augmentation.
In 2011 the FDA issued a follow-up report on the most recent data regarding the safety of silicone implants. The recent data confirmed the earlier findings that silicone gel implants are safe for breast augmentation. All women over the age of 22, that are suitable candidates for breast augmentation surgery, are eligible for silicone gel filled breast implants.
Cohesive, Gummy Bear, Silicone Implants
Shaped silicone implants are filled with a very thick silicone material. This material is very thick and bulges very little if the implant shell is disrupted. Gummy bear implants are firmer than traditional silicone gel implants and can be felt a little more in the breast. Otherwise, the above considerations about silicone implants are similar to gummy bear implants. Cohesive, gummy bear, gel implants are now also available in round shapes.
About the Keller Funnel Implant Device
Introduced and used by Dr. Connall since 2009, the Funnel has been used successfully by Esprit® Cosmetic Surgeons in thousands of breast augmentation and reconstruction procedures. The Funnel is versatile in its ability to be used for both breast augmentation and reconstruction procedures, and can be sized to work with all types of breast implants.
Designed by a plastic surgeon, The Keller Funnel improves the delivery of silicone gel implants during breast augmentation procedures. Today, patients can have the aesthetic advantages of silicone gel implants, combined with a gentler surgical approach. Because every woman is different, and individual results may vary. Speak with our surgeons about the merits of the Keller Funnel and why using it in your procedure may provide the following benefits:
Shorter incision length
No touch technique
More choices for incision placement
Reduced force on the implant and incision
Breast Implant Selection
During your consultation at our office in Portland, our surgeons will review all of your implant options with you in detail. They will frame your options in the context of your unique anatomical characteristics and personal desires. Only with a comprehensive consultation can you assess which implant is best for you.
---
---
Call our office in Portland to learn more about silicone implants at (503) 783-0544. You can also use our online form. We look forward to helping you make this important decision about your breast augmentation.