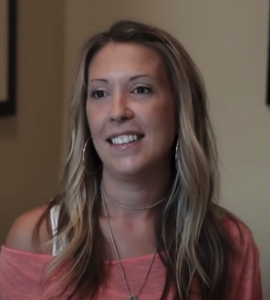 "So day of surgery, I was definitely nervous about having surgery. Once I came to the surgery center, I actually felt really relaxed and comfortable. The staff was great. They got me changed into a gown, gave me this really cool warm blanket to put on and socks. They took my blood pressure and got the IV in my arm and then it was time to go into the surgery room. I laid down on the table and the next memory I have is just waking up in recovery.
In recovery, I woke up just feeling a little groggy and I could kind of feel a little uncomfortableness, like something was going on, but I definitely wasn't in any pain. The nurses were great. They were right there to give me a drink of water and some food because I was hungry. You just kind of wake up out of this little bit of grogginess and come to a little bit more. It was really an easy process. I think I ended up leaving 30 minutes after that and was on my way. Overall, it was a great experience.
So once I got home, I was definitely feeling a little uncomfortable, but I found that the pain medication really helps with that. So as long as I was taking that, I was not in a lot of pain and it was really manageable. It was harder for me to not want to clean and take care of the kids and just relax, because I know relaxing is important after a surgery to let yourself recover.
If somebody told me they were interested in doing the procedure and asked me about it, I would definitely tell them it's been a great experience and definitely something I would do over again. I think that for me, I was really nervous about having surgery and that part kept me from doing it for many years. But, now that I've been through the process, that really was a good experience. It wasn't a hard thing to do and I'm just so happy that I did it and happy with the results and I think it's amazing what it does for your you and your body to have something like that changed. It's like a miracle for me."
*Individual results may vary