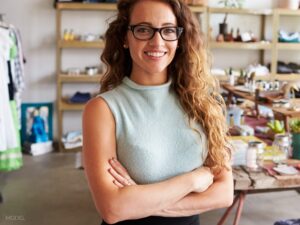 Some women experience capsular contracture as a complication of their breast augmentation. At Esprit® Cosmetic Surgeons, we can typically treat the condition with either breast revision surgery. Your doctor can discuss options with you and help you choose a treatment plan that will best address your needs.
What Is Capsular Contracture?
As part of the body's natural processes, breast augmentation patients will develop a thin and pliable envelope of scar tissue around their implants. Capsular contracture occurs when this tissue thickens and tightens around an implant. Some common signs of this complication include:
An implant that takes on a ball-like, pronounced shape within the breast.
An implant that repositions upward within the breast.
Discomfort and soreness in the breast.
Breast revision procedures with Esprit® Cosmetic Surgeons not only address the medical concerns related to capsular contracture, but also focus on the aesthetic outcome. Our goal is to give Portland patients improved comfort and renewed happiness in their appearance.
Breast Revision Surgery for Capsular Contracture
Surgery may be the best option for patients who have severe capsular contracture. During the breast revision procedure, the doctor will:
Remove as much of the scar tissue as possible.
Sanitize the surgical pocket with an antibiotic solution. This helps eliminate bacteria, which may have caused the complication in the first place.
Place a new implant.
For some patients, repositioning the implant may be appropriate- Especially when the implant is above the muscle. In such cases, placing the new implant below the muscle may decrease the chance of recurrent contracture.
For recurrent capsular contracture, the use of biological materials, such as Strattice, may be used to encase the implant and minimize the recurrence of contracture.
When replacing a single implant, we take the time to ensure that the size, shape, and position are a match with your other breast. Our goal with breast revision is to help you achieve the beautiful aesthetic you had in mind when you first pursued surgery.
Breast revision to correct capsular contracture has a high rate of success when performed by experienced surgeons such as us. When selecting a surgeon be sure that he or she has experience with all the current techniques for capsular contracture and the technology needed afterward to give you the best results. Esprit® Cosmetic Surgeons welcomes you to learn more about our approach by scheduling a consultation with our practice.  
If you are experiencing capsular contracture, a breast revision procedure may alleviate your discomfort and correct your aesthetic concerns. Explore your options by contacting Esprit® Cosmetic Surgeons online or in Portland at (503) 783-0544.